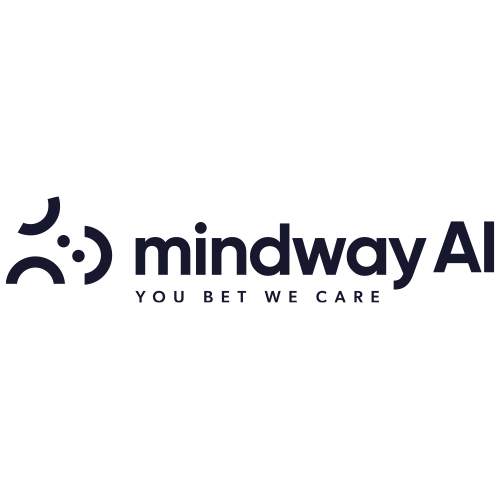 Mindway AI
Stand: N4-CP14
| Affiliate
| Betting
| Bingo
| Casinos
| Esports
| iGaming
| Lottery
| Social
| Sports Betting
| Table Games
| Both
| Africa
| Asia
| Middle East
| North America
| South America
| Australia
| Central Europe
| South Europe
| Western Europe
| Northern Europe
| Eastern Europe
| Business Intelligence
| Data Analytics
| Artificial Intelligence
| Regulation
| Legal
| Technology
| Risk & Fraud Management

Mindway AI is a Danish award-winning software company that creates innovative tech solutions for fully automatic detection and monitoring of at-risk and problem gambling behavior.
Based on neuroscience and artificial intelligence, Mindway AI works with gambling operators, platform providers, regulators, and governments to supply state-of-the-art early detection and intervention solutions for safer gambling.
From university spin-off to growth comet
Starting out as a Danish university spin-off, we at Mindway AI have developed detection software rooted in neuroscience, which combines artificial intelligence and human expert assessment.
This unique combination allows us to detect at-risk and problem gambling behavior much earlier than what has previously been possible.
Mindway AI is founded on the belief that early detection is a real game changer, when combined with appropriate intervention steps, as it decreases the probability of players developing a gambling addiction.
We continuously update our solutions in cooperation with neuroscientists, gambling experts and psychologists specializing in gambling addiction. This approach adds a human touch to the complex AI software.
Today, we sell our industry leading tech solutions in 13 different countries, incl. UK, Germany, Sweden, Denmark, The Netherlands and US. Some of the world's largest and most significant operators are among our clients. We are currently monitoring more than 3.7 million players, and our solutions are translated into 14 different languages, and this is just the beginning.
This year, we expand to local presence in both the UK and Malta. We are constantly expanding our portfolio, and our customers are very satisfied with our solutions.