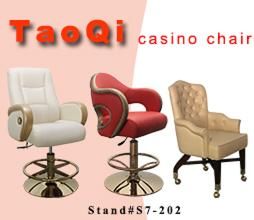 TAOQI Gaming Stool
Stand: S7-202
| Land-Based
| Africa
| Asia
| North America
| South America
| Australia
| Central Europe
| South Europe
| Western Europe
| Northern Europe
| Eastern Europe
| Casino
| Furniture/Furnishings/Fittings
| Casino equipment
| 3

TaoQi Furnitureis a leading manufacturer of casion chair in China.
We have specialized in producing casino chairs with good quality and favourable price since 1996.
Over 23 years we have provided seating solutions for more than 500 casinos all over the world,created over 300 style chairs with 60 design patens.
Contact
Abbey sale5@j-ly.cn
Alice info@j-ly.com
Angela sale1@j-ly.com
Alva sale3@j-ly.com
Tom sale@j-ly.com
Address
FOSHAN
GuangDong
528318
China