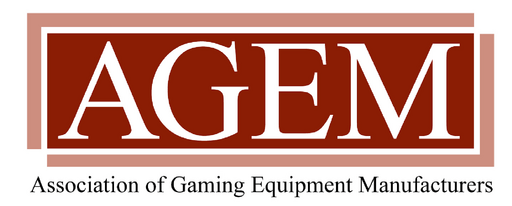 AGEM
Stand: N1-242
| Betting
| Bingo
| Casinos
| Esports
| Hospitality
| iGaming
| Lottery
| Mobile
| Online
| Payments
| Sports Betting
| Table Games
| Tribal
| Both
| Africa
| Asia
| Middle East
| North America
| South America
| Australia
| Central Europe
| South Europe
| Western Europe
| Northern Europe
| Eastern Europe
| Business Services
| Game Development
| Gaming Equipment and Hardware
| Gaming Software
| Machine Gaming
| Monitors/Touchscreens
| Payment Solutions
| IT Infrastructure
The Association of Gaming Equipment Manufacturers (AGEM) is a non-profit international trade association representing manufacturers and suppliers of electronic gaming devices, lotteries, systems, table games, key components and support products and services for the gaming industry. AGEM works to further the interests of gaming equipment suppliers throughout the world. Through political action, regulatory influence, trade show partnerships, educational alliances, information dissemination and good corporate citizenship, the members of AGEM work together to create benefits for every company within the organization.
Together, AGEM has assisted regulatory agencies and participated in the legislative process to solve problems and create a business environment where AGEM members can prosper while providing a strong level of support to education and responsible gaming initiatives.
Currently AGEM represents 172 companies across 22 countries, covering all sectors of the industry.
Address
PO Box 50049
Henderson
Nevada
89016
United States